Return to: Cozy MKIV Information
---
Oshkosh Trip
July, 2006
Here's a map giving an overview of the whole trip.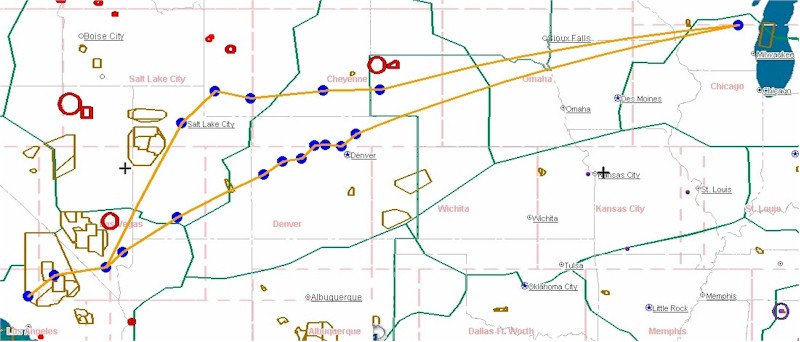 I created this overview map using www.aeroplanner.com (need a membership, but it's free with EAA membership). Aeroplanner is GREAT, if a little slow.
I created the individual maps on the linked pages using AOPA's "Real Time Flight Planner" (need a membership in AOPA to use). This has the potential to be a nice tool, but it's pretty damn buggy.
Each Day
(Click on "Route" links for day maps and more detailed descriptions of each day's activities):

Day

Route

Itinerary/Activity

Saturday
KTSP - KGXY
Collect Kevin Bailey and Danny Norris - head off to Greeley for the night. Give ride to Tate Wood/family in Greeley
Sunday
KGXY - KOSH
Head off to OSHKOSH

Monday
KOSH
Ride for Jason Heath. Wander around, etc.
Tuesday
KOSH
Rides for Don McClure and wife. Wander around, etc.
Wednesday
KOSH
Rides for Dale/Marie Ramey. Wander around, etc., lots of yakking; CSA weenie roast
Thursday
KOSH - KUNU
Local flight to Dodge County, WI for builder rides for John/Jack Millward and Ed Savage; COZY BBQ at Mark Beduhn's hangar.
Friday
KOSH - KUNU
COZY Checkout ride for Steve Campbell at Dodge County Airport; Give COZY Forum; COZY Dinner at Robbins Restaurant
Saturday
KOSH - KBFF - KTSP
Long day home - 10.2 hours in the air - 12 hours door to door
---
Return to: Cozy MKIV Information
Copyright © 2006, All Rights Reserved, Marc J. Zeitlin
e-mail: marc_zeitlin@alum.mit.edu
Last Updated: - August 03, 2006