---
2006 Oshkosh Trip - Day 1
Date: July 22, 2006
Friday evening I went to the airport to get the plane ready for the Oshkosh, WI Airventure trip. I fueled it to the top, checked the oil, and played around with the back seat loading of camping gear. With three adults and their stuff in the plane, it would be tight, so I wanted to ensure that everything would fit.

After getting home, Danny Norris arrived around 9PM after a 4.5 hour drive from Watsonville, CA to Tehachapi, CA (with the COZY, it's about 1.2 hours in the air). We introduced ourselves, checked the weather, talked about possible routes depending upon what the weather looked like in the morning, and then went to sleep.

After waking around 6 AM and checking the weather again (DUATS, so that it's officially in the system), we decided that a relatively direct route over Las Vegas, Bryce Canyon, Grand Junction, and up to Kremmling, Granby, and then towards Boulder would be good.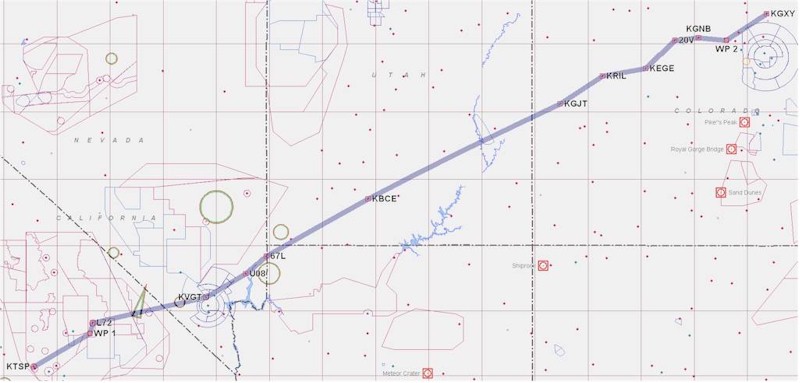 We got some breakfast and then got the plane out out of the hangar, and after checking the fit of Danny's stuff, decided that it was going to be tight in the back seat :-). Around 7:15 AM Kevin Bailey arrived from the LA basin after a 1.5 - 2 hour drive (about 20 minutes in the COZY from Tehachapi (KTSP) to Whiteman Airport (KWHP) :-) ). We futzed with the baggage and managed to find a way to cram it all in the strakes and empty seat so that the rear seater wouldn't have to have anything on their lap (although they would have a small bag under their knees, just in front of the seat).
We emptied our bladders, loaded up the plane, and headed north east. We got flight following from Joshua Approach as we climbed to 9500 ft., but they lost us near Death Valley. We picked up flight following again from Las Vegas Approach as we came over the ridge to the west of Vegas. We were in and out of very light virga and cloud cover at about 15K ft MSL (which was actually kind of nice, due to the shade), but the air was clear and calm, with 50 mile visibility. We passed St. George, UT and then overflew Zion National Park. A short while later we flew past Bryce Canyon (after climbing to 11.5k ft to get over/around the local mesas/mountains) and then onward over a pretty desolate area towards Grand Junction. All extremely beautiful countryside - just amazing.
The time flew by (so to speak), and we had been in the air for 3 hours before we knew it. We were making about 167 - 170 kts groundspeed with a 5 kt. headwind, burning 9.1 - 9.3 gal/hr. and had more than enough fuel to make it to Greeley, CO without a stop. We passed Grand Junction (GJT) and jogged our way to Granby via Kremmling, following the valleys of the Colorado River. After Granby, Denver Approach lost us on radar due to the 14k ft. bumps all around us. We were in and out of cloud cover, which was still well above us at 15k - 17k ft, even as we climbed up to 13.5k ft. to make it over the 12k ft. ridge south of Long's Peak. It was VERY strange being at 13.5k ft, and only being 1k-2k ft. AGL. One high ridge, and then it was downhill all the way northeast to Greeley.
We arrived after exactly 4:30 in the air, burning 42.5 gallons - not too tacky. We headed into the restaurant and got some lunch and something to drink.
Tate Wood (an early stage COZY builder), his wife, and daughter met us at the airport, and after unloading our stuff from the plane into a car that Lee Devlin had conveniently left at the airport for us, I took Tate and his family for a ride. Tate's just finishing up his PPL and he had no problem flying the COZY, even with his family in the back seat :-).
We landed, I fueled up, and then we put the plane away in Lee's hangar with his Long EZ. We then headed into Greeley to the Best Western for the night.
1/3 across the country in 4.5 hours - not bad. Had we been in a rush, we could easily have made it into Oshkosh well before dark. But we're not :-).

---
Copyright © 2006, All Rights Reserved, Marc J. Zeitlin