---
2007 Rough River Fly-In Trip - Day 1
Date: September 27, 2007
Rough River Day 1 actually started the previous evening (Wednesday). Dennis Passey (a COZY builder in Carmel, CA) and I had made arrangement s to fly from California to Kentucky for the RR flyin. Dennis drove his 1978 Porsche 911 slant-nose down from Carmel on Wednesday evening and stayed over at our house. I had packed up the plane with most of my stuff that afternoon to save time the next morning, and had also done the pre-flight inspection and fueled up.
We awoke early Thursday morning to check the weather (which was supposed to be great) one last time before heading out. We took some food (hard-boiled eggs and bread, as well as some power bars) to eat in the plane and headed out to the hangar at 6:10 AM or so. We finished packing up, closed up the hangar, and were off the ground heading east at 6:35 AM PDT, about 10-15 minutes after sunrise. We headed towards Lancaster to get south of the Edwards AFB airspace, then turned pretty much due east toward Barstow. We started out at 7500 ft., knowing that we'd have to climb higher later. I got flight following, and we settled in for approximately a five hour leg, intending to stop in Amarillo, TX, just about 1/2 way to RR.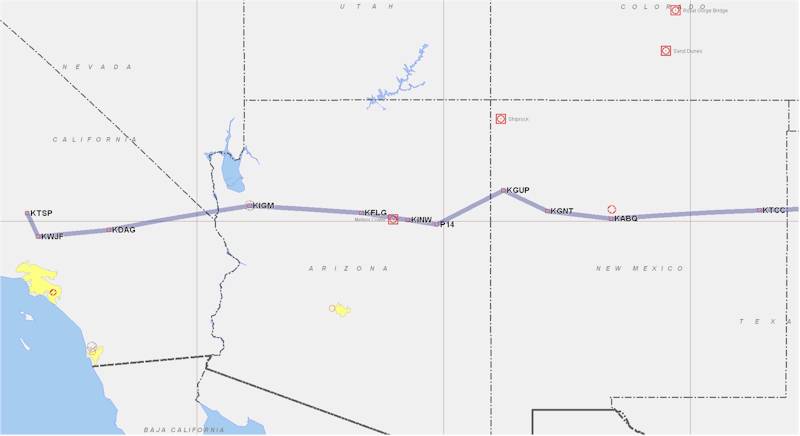 We only had about a 5 kt. tailwind and were making about 170 kts GS, leaned out and burning about 9.5 gph. Dennis (not a pilot yet) flew the better part of the first couple of hours as we passed over Barstow, CA, picked up I-40 (a 2000 mile long runway, as far as I'm concerned), and climbed up to 9500 ft. as we passed Kingman, AZ. The terrain rises quickly east of Kingman, going from about 3500 ft. at Kingman to over 7000 ft. at Flagstaff. 9500 ft. isn't a whole lot of terrain clearance, especially with hill rising to 8-9K ft, and Mt. Humphreys, just north of Flagstaff, at over 12K ft. After passing the Meteor Crater and Winslow, AZ (no girl in a flatbed Ford, sadly), we headed across the painted desert near Holbrook, AZ and on to Gallup, NM, staying within gliding distance of I-40 just about all the way. There are stretches with over 40 miles between airports out there, even where there are towns.
At Gallup we turned a bit southeast to stay near I-40 and go south of Mt. Taylor (an extinct volcano, as is Mt. Humphreys) near Grants, NM, and then turned east toward Albuquerque, NM. Visibility was tremendous the whole way - over 120 NM for the most part, and at worst 100 NM. The terrain in AZ and NM is fascinating and beautiful, and we had a great time looking out the window and waiting for FF to point out an airplane for us to avoid. I think we got three or four traffic calls in the 1500 NM trip. At any rate, we passed over KABQ, went through the pass south of Sandia Peak, and headed toward Tucumcari, NM. While it would only be another 35 minutes or so from Tucumcari to Amarillo, TX, our planned stop, Dennis and I were both ready for a pit stop. Although we had eaten all the packed grub, we were still hungry and definitely needed a bathroom.
We landed at KTCC after about 4.5 hours in the air and took the courtesy car into town to get some cheap food. We then fueled up and speculated on the comfort and speed of the Pilatus PC-12 sitting on the ramp next to the COZY. Yeah, well, maybe when five million bucks grows on the non-existent tree in the backyard of the house we're building ... Anyway, we took off from KTCC and continued east over I-40 toward Amarillo, TX. Past Amarillo, we climed up to 11.5K ft for better visibility over some clouds (and hopefully better winds, although that really didn't materialize) and then skirted a couple of rainstorms to the north. ATC pointed them out to me, giving me info on the position, movement, and rain strength in each, but it was easy to change course about 15 degrees to the south and go around both. We turned northeast and headed direct to Rough River. There's not a lot to look at over Oklahoma, but we passed pretty much directly north of Oklahoma City and then over Tulsa. We cut the corner of northwestern Arkansas (apparently Dennis had spent some time many years ago in Rogers, AR) and then crossed into southern MO. By this time, the sun was getting low behind us, and we discussed the possibility of stopping somewhere prior to RR and getting in early in the morning.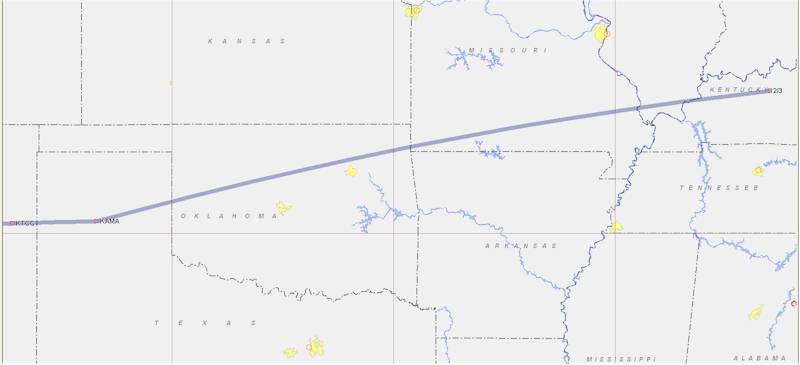 We decided to press on - the weather was clear, visibility was great, and RR airport (2I3) is lit full time. Crossing the Mississippi River just south of Cape Girardeau, we flew through the southern tip of Illinois and then over the Ohio River into Kentucky just as the sun set. Evansville Approach cut us loose about 10 miles from Rough River and we picked out the beacon and runway lights just to the west of the lake. The wind was calm and there was no traffic, so I chose to land uphill on runway 02. We touched down after approximately a 5.2 hour leg, taxied to the parking area, and said hello to the folks that were already hanging around. There were probably 6 - 10 canards already on the ground when we got there on Thursday evening, as well as 10 - 15 campers.
I set up my tent (on the only patch of non grass covered dirt, apparently, since I couldn't see anything in the dark), and then Bob Tilley gave us some peanut butter and jelly sandwiches, since by that time it was after 8 PM and the lodge was closed. Don't even ask about there being some other restaurant open nearby - they roll up the streets around there pretty early. We relaxed and hung out with the rest of the folks, yakking about airplanes for a couple of hours before hitting the sack. Dennis was staying with Rhemi Khu in a lodge room, so I had the palatial tent to myself. Bringing the air mattress and wearing ear plugs makes tenting far more comfortable, and I no longer care if anyone is snoring in the tent next door.
To Be Continued...


---
Copyright © 2007, All Rights Reserved, Marc J. Zeitlin