---
2004 Western Trip - Day 12
What I Planned:
Date: On or about July 23, 2004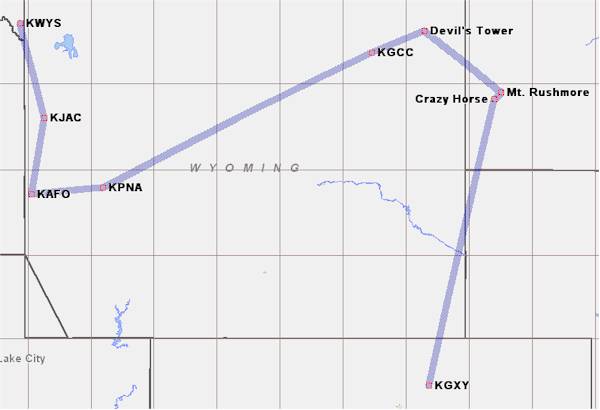 Leaving West Yellowstone, MT (KWYS), we'll head out for some sightseeing. First, we'll head through Jackson Hole, WY (KJAC) and down to Afton, WY (KAFO), then on to Ralph Wenz field in Pinedale, WY (KPNA). These are al supposed to be very pretty areas in the Rockies. We'll then head off to Gillette, WY (KGCC) for a lunch/gas stop.
Next we'll head off to take a look at Devil's Tower, WY, Mt. Rushmore, SD, and the Crazy Horse Monument, SD.
From there, we'll head down to Greeley, CO (KGXY) to meet up with Lee Devlin, who's flying a L.E., building a COZY MKIV, and was the second person on the COZY mailing list back in the early spring of 1995. So far, Lee is the only one committed to flying to OSH with me (although there are a few that are "probably's". We'll overnight in Greeley, CO, and probably end up doing some maintenance (oil changes and the like) on the aircraft either today or tomorrow.

---
What Actually Happened:
Date: July 23, 2004
We woke in the morning around 7 AM, and Burrall and his wife Joyce started getting ready for a camping trip in the mountains - they would be leaving the house around 10 AM, and would leave me to house-sit (with the car keys) for as long as I needed to. Are these canard folks special, or what? We ate some breakfast and I did a clothes wash. They left around 10 AM and I had the run of the house.
Well, I'm almost back on my original schedule (funny how eliminating 75% of what you want to do lets you catch up, huh?). The object today was to get too Greeley, CO from Meadowlake, CO, a distance of about 103.5 statute miles, or a 35 minute flight. The weather in the AM was IFR due to low ceilings - the ceilings slowly rose during the day, becoming marginal VFR all the way up to Greeley, but the thunderstorms moved in, so I bided my time, watching the weather radar, METARS, etc. on the computer. I also replaced the crappy 1/4" screws that Jim Sower and I had installed on the NG-6 backing plate with real AN-3 bolts and nuts - much more secure and a lot stronger. Since the Nose Lift "down" switch acted up oon the landing at Meadowlake, I poked around and found that the main Molex connector had an intermittent connection on one pin - a slight adjustment to ensure more complete contact fixed this problem, hopefully for good.
I believe I'm now back to complete functionality in the plane - nose gear, magnetos and starter - the only thing not working (that I know of) is the MP3 player power adapter :-).
Evan Genaud requested that I do a flyby of his office building in Denver, and amazingly enough, it looks as though it would be legal to do so, as long as I'm more than 1000 AGL and 2000 ft. lateral from the building. He claims he'll have 100 folks looking out the windows - I suppose this would be like flying down the VFR corridor on the Hudson River next to Manhattan, NY, with an audience. However, given the crummy weather, my desire to avoid it and have the maximum flexibility in doing so, I declined to squeeze myself in between the mountains on one side and the Denver Class "B" on the other. Some other time maybe....
The weather never cleared enough for me to attempt the trip up to Greeley - I was not comfortable enough with my knowledge of weather patterns in this area, even after staring at radar, satellite, and METAR graphics all day, and reading forecasts as well. I'm hoping that the morning will be a bit better. I still hope to do a couple of takeoffs at Meadowlake to check out high DA takeoffs, and then stop at Centennial airport (KAPA) to pick up Rick Maddy to head up to Greeley for the BBQ.
No travel today.....

---
Copyright © 2004, All Rights Reserved, Marc J. Zeitlin