---
2004 Western Trip - Day 3
What I Planned:
Date: On or about July 14, 2004 (Bastille Day - Yay!)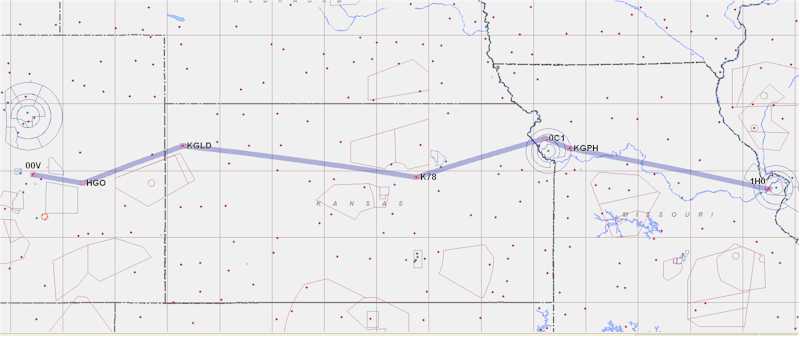 After a wonderful evening in the St. Louis, MO area, I'll head west to visit with Philip Weaver (COZY MKIV builder) at Clay County Regional, MO (KGPH). If I'm lucky, I'll have convinced Curt Smith to come along with my on my adventure :-).
The intermediate points in KS are there to get me around MOA's and/or restricted areas. Maybe a fuel/bladder stop.
After visiting with Phil, I'll continue west, bypassing Kansas altogether and rolling into Meadow Lake, CO (00V) outside of Colorado Springs, to visit with Burrall Sanders (building a COZY III and flying a V.E.) and Ron Lee (Building a L.E.). I'll probably overnight there.
---
What Actually Happened:
Date: July 14, 2004 (Bastille Day - Yay!)
Not a damn thing. The weather sucked, so I spent the whole day watching weather reports and waiting to see what would happen. The answer was, not much, and more of the same.
---
Copyright © 2004, All Rights Reserved, Marc J. Zeitlin