---
2006 - Columbia Fly-In - Day 1
Date: May 5, 2006
After having been to Sun and Fun twice, Oshkosh (mumble) times, and Rough River once (in 2004), I got the chance to go to the West Coast Canard Fly-In at Columbia airport (O22) in the middle of California. Deanie and I woke up around 8 AM on Friday to a completely overcast sky in the Tehachapi valley. The weather report had forecast a nice, sunny day, so we figured that it would all burn off as we packed up our camping equipment and got ready to go. By 11 AM it had started to break up, and by noon it was pretty much gone - just some clouds over the pass on the way down to Bakersfield. We packed up the car with the camping stuff, Deanie's easel and art supplies, food for 17 people for a week, and enough clothes for the third army. I had a knapsack.
We drove the 5 minutes to the airport and crammed all this crap into the back of the COZY, and by 1 PM were off the ground. We climbed up to 8500 ft. and easily cruised over the cloud layer towards Bakersfield. The tops were 5K - 6K ft and scattered pretty much all the way up the San Joaquin Valley, while we flew into a 15 Kt headwind with a groundspeed of about 145 - 150 kts. most of the way. We got Flight Following, which Deanie insists that I do when she's with me (I'd just as soon turn the radio off and listen to music, but that's me). I don't think we got one traffic report the whole 1.5 hour flight up the western side of the Sierras, even flying over Bakersfield or Fresno.
Once, after passing Fresno, I let go of the stick to turn the map page and look around, and Deanie took the stick (just like when I let go of the wheel in the car to eat a sandwich or something, and she grabs the wheel until I start steering again). When I got set up with the map and went to take the stick back, she said "I'll fly for a bit". Well, I've been trying to get her to fly "a bit" for a long time now, and she usually is VERY not interested, so I was psyched that this was HER idea. The Navaid autopilot was on, so all she had to do was hold altitude, and she did that for about 10-15 minutes until she got tired of it and told me to fly again. Yee-hah - that's step one.
Anyway, we had an uneventful flight in smooth air with the headwind over the scattered layer up to Columbia (O22), canceled Flight Following with Oakland Center, tuned into the new Columbia CTAF, and followed about 5 other planes (canards and otherwise) in for a landing on runway 17. We pulled over to the transient parking area and Tim LoDolce and Don Denhard guided us to a parking spot near the fuel pumps. Maybe 15 canards were there when we got there. I asked Don where the campgrounds were and he said that he'd drive us over there, rather than having us taxi on the grass runway. Little did he know that we could almost fit more crap in the back of the COZY than he could in his Land Rover. We yakked for a while, unloaded the plane into the car, and Don drove us the 1/4 mile across then paved runway over to the campground.
Columbia has a VERY nice campground dedicated to fly-in campers - this is NOT a public campground, and it's only $8.00/night, which includes the tie-down fee.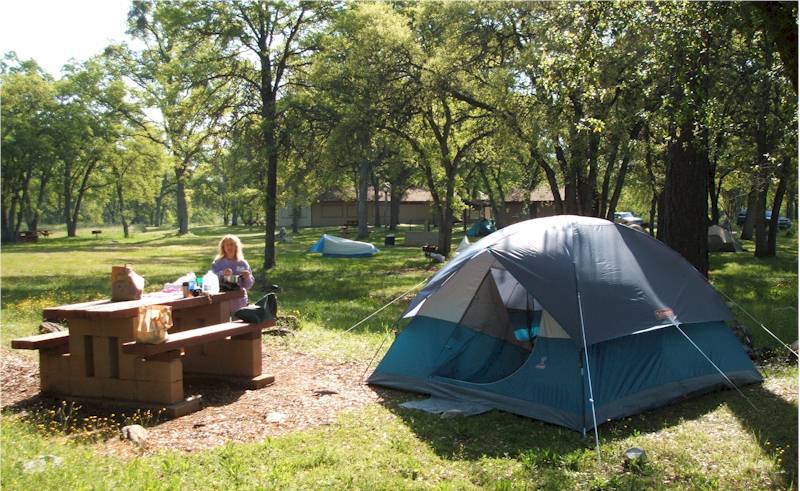 Deanie and I set up the tent, threw all our stuff inside, and then I collapsed on the air mattress - I had woken up in the morning feeling bad, and it had been getting worse all day - slight headache, joint aches, stomach pains - 24 hour flu, I was hoping - I was damned if I was going to miss this fly-in, and the only thing that could have stopped me from flying up there was a headcold, which I didn't have. Anyway, I laid down for an hour, then we cooked some soup and vegetables on my cookstove, ate, and then I collapsed again. I had aches, chills, and a bit of fever during the night - cold sweats, blah, blah, blah, but when I woke up Saturday morning, thankfully, I felt pretty good.
To be continued.....
---
Copyright © 2006, All Rights Reserved, Marc J. Zeitlin