---
2004 Rough River Diary - Day 1
Date: October 1, 2004
After two years of NOT going to Rough River (first year, hadn't flown off the restricted time, second year, engine needed a TOH), I finally had the plane ready to go, and only the weather could have stopped me. Luckily, Friday was forecast to be good VFR weather all the way from MA to KY, so John Vance (a builder in western MA) met me at Fitchburg airport (KFIT) around 9 AM Friday and we began loading up the plane. John had just purchased a new 6 man tent that was lighter and smaller than my clunker, so we brought that one. Sleeping bags, pads, backpacks, flight gear - we threw it all (carefully) in the back of the COZY and still had tons of room to spare (John, unlike Wayne Hicks, refrained from bringing the deluxe folding chairs).

Although I have a Garmin 195 in the plane, John had recently purchased a Lowrance 1000, so he suction cupped it to the inside of the canopy so that he could play with it along the way. We preflighted and then broke ground around 9:50 AM EDT and headed west-southwest. I had charted a course that would take us over western MA to Wurtsboro, NY (N82), where I had finished up my glider rating in 1974, right after I got my driver's license and could get up there from New Jersey during my senior year in High School. Flying over western MA and NY, about 1/2 the land area was covered in ground fog (Dave Dugas and Rodney Herzig were held up leaving MA for a couple hours due to fog at Orange Airport (KORE) ). We couldn't see Wurtsboro (or much of anything else on the ground, either, for that matter), but the air was clear and calm at 8500 ft.

After 2:20 in the air, with the headwinds picking up from 3-5 Kt. when we left to about 15 - 20 Kt., we decided to stop for refueling (both for us and the plane) at Arnold Palmer Regional Airport in Latrobe, PA (KLBE). Kind of strange naming an airport after a guy that's not even close to being dead, but hey, I guess golf is pretty big.....

Anyway, we landed and parked behind 2 Gulfstreams and a couple of smaller jets, and then went inside to Denunzio's restaurant for lunch. Actually, it was pretty decent food, with a nice view of the airport.

The blue-haired old ladies sitting behind us had a good time speculating about the weird airplane parked on the ramp, and we told the guys on the other side of us a bit about the plane - they had never seen a canard before.

While we were eating, a non-descript 737 cargo plane with the original engines and "hush" guards (or whatever they're called) with a company name that neither John nor I had ever heard of (Ameriplane, Americafly, or some such generic name) landed and parked about 100 feet behind the COZY. There was a flurry of activity by about 4 folks, opening the cargo door and cabin door, bringing over an 18 wheeler (again with some non-descript generic trucking name like "Liberty Trucking") and a forklift truck, bringing over a metal LADDER to deplane (no airstairs for them!), and unloading about a bazillion pallets of pink shrink wrapped cardboard boxes.

John and I joked about the complete lack of security there (or what seemed like it), and that the boxes were probably filled with Saddam Hussein's extra nuclear material. We then decided that that was unlikely, and that the more likely scenario was that the boxes were filled with Enron's documentation, or possibly Halliburton's. Good place to hide stuff.....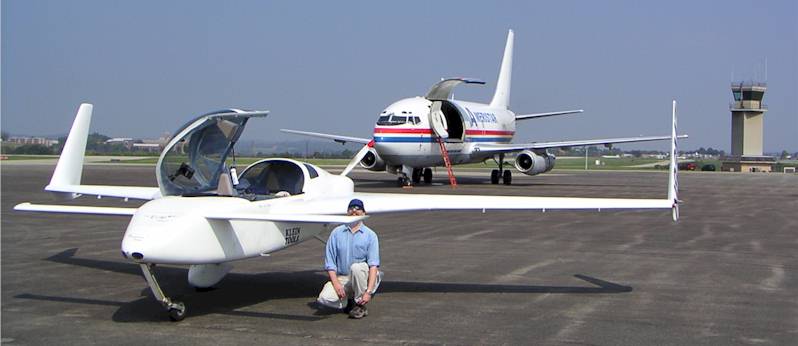 Anyway, after lunch, I got 10 gallons of gas and we headed out. Our next waypoint was Portsmouth Regional airport (KPMH) in Ohio, which kept us out of a couple of MOA's, and then on to Addington Field (KEKX) in Kentucky (also to keep us out of the Fort Knox restricted area. All along the way, the visibility was great up high, with scattered to broken clouds below us at 3000 - 6000 ft (we were again at 8500 ft.). Down low, however, it was REALLY hazy and ugly - there were places where the visibility was barely VFR.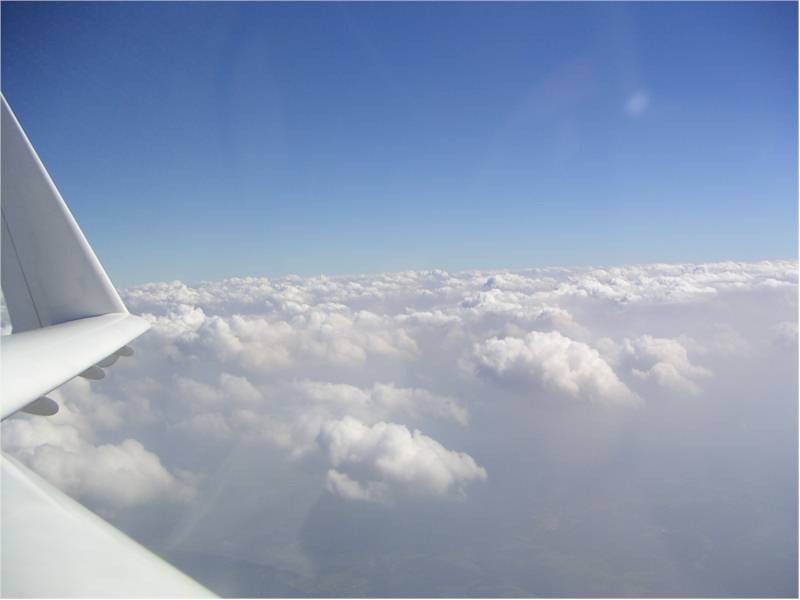 We were very glad to be in an airplane that could easily get (and stay for a while) up above the crud. After passing KEKX, we began a descent into Rough River State Park Airport (2I3), about 25 miles ahead. The visibility had improved somewhat to 10-15 miles, so we didn't have too much trouble finding the lake and the airport.

By the time we arrived at about 4 PM EDT (3 PM CDT), after another 2:20 leg (or so), there were already around 50 canards on the field - it was amazing looking from the air. The pattern was pretty empty, and although the wind was favoring runway 20, I had listened to the admonishments of those who said to land uphill on runway 02 if possible, so I went around and did so. We had about a 10 Kt. tailwind (a bit more than I had expected), but even with that, we were able to stop easily on the 3200 ft. runway (with a big crowd watching - I was expecting to see the "6.3", "6.5", etc. numbers go up at any time (out of 10 - I have no illusions about my landing performance :-) ). Except for some main gear shimmy on landing (apparently due to some runout in my brake discs, according to folks in the know), everything went fine. I back taxied to the next available tiedown spot right off the side of the runway, and John Vermeylen guided me in to the spot right next to his plane.

Yee hah - we were there!

John and I wandered around a bit, overwhelmed by the number of canards in one place, and by the fact that the place that they were in was so nice. We then set up his wonderful tent (can you tell I like it?) and threw our gear in. I removed all the ballast from the plane so that it would be as light as possible for the rides I was going to give the next couple of days, and then we spent a couple of hours schmoozing with folks. Later, we headed over to the lodge for the buffet dinner (along with about 6 zillion other people), and then went back to the field and hung out at Ron and Happy Treml's tent with a few other folks for a couple hours.

The facilities at RR for camping are very nice - good shower and bathroom, and nice grounds. Around 10 PM, John and I decided that our day had been long enough, and we hit the hay. Eventually, someone's got to solve this snoring thing - probably a Nobel prize in it somewhere, I'd think along with a TON of money - John snores a bit, and I had to wake him up in the middle of the night to get him to change positions or something so that I could get some shut-eye. I felt crappy doing it, but hey, I didn't want to fall asleep during one of the rides I was going to give on Saturday :-).

Bruce Sturgill (a professional videographer/filmmaker) took these shots of Colby Farmer doing a low pass - it's about 1.6 Mb, but worth it :-).

To Be Continued......
---
Copyright © 2006, All Rights Reserved, Marc J. Zeitlin