---
2005 Go West Trip - Day 9
Date: September 1, 2005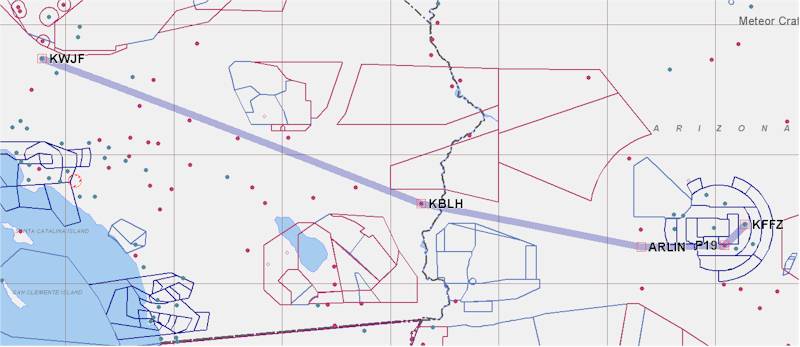 We woke early, around 6:30 AM, and got our stuff together. Having finished the Bill Bryson book, I left it for Dave to read, since he likes Bryson too. We said goodbye and thanks to Barbara and Matthew (their 4 year old, who was up), and then we headed out to the airport around 7:30 AM, trying to beat the heat and get into Lancaster relatively early. We took Dave's car up to Falcon Field (KFFZ), drove up to the plane, and unloaded. We gave Dave a call (he had ridden his bicycle to work at 5:30 AM - a far more ambitious man than I) and Deanie headed over to to his place of work, about five minutes away from the airport, to pick him up while I loaded up the plane and got some gas.
Deanie and Dave pulled up just as I finished fueling. We said goodbye and thanks to Dave, and then climbed into the plane for the last leg of our journey. I planned to dogleg south of the center of the Phoenix Class B airspace, and then climb up to 8500 ft. after clearing the airspace to the west. We took off to the northeast on runway 4L at Falcon Field, and after climbing to 2300 ft (1000 ft. AGL), turned right and headed southwest. I climbed to 2500 ft, which is barely 1200 ft. AGL. This afforded us some great sightseeing of the suburbs of the southern Phoenix area. Deanie was not thrilled with being that low - although the sightseeing is good, she's always concerned about safety (not that that's a BAD thing). She was concerned about where we would land in case of an emergency. I pointed out the many airports, said that we'd be climbing as soon as it was legal to do so, and that the reason we were staying low was also safety - so we wouldn't get run over by some heavy iron taking off from or landing at Sky Harbor International Airport (KPHX). I don't think that totally mollified her, but she stopped complaining about the altitude (but not the heat). When possible, I climbed up to 3800 ft. (2500 ft. AGL) and continued west.
Interestingly enough, the Phoenix Class B in the southwest area ends just before arriving at the Sierra Estrella mountains, which top out at 4500 ft. I began my climb, and we crossed over the peak of the ridge at about 5500 ft, and then I leveled off at 6500 ft. to allow the oil temperature to come down a bit from 230 degrees. We stayed at 6500 ft. until we got about 1/2 way to Blythe (KBLH), and then climbed up to 8600 ft. It was reasonable cool up there, and we were doing about 160 Kt. groundspeed at about 8.1 gal/hr. The area between Phoenix and Twenty-Nine Palms is about as desolate as any we'd flown over in New Mexico or northern Arizona - it didn't look like anyone ever went through there, and there were far fewer roads (paved or dirt) out there. We passed north of Yucca Valley (L22), and were headed directly over Big Bear City (L35), which would have entailed a climb to at least 10.5K ft. to clear the 9900 ft. mountains just to the south of Big Bear. Deanie would have wanted O2 to go up that high, so I offset our course 5 miles to the north, and we neatly avoided the mountains as we headed west toward Apple Valley (KAPV), while staying at 8500 ft.
We had the whole Mojave Desert and Antelope Valley spread out in front of us, with the Tehachapi Mountains in the distance to the west/northwest, and the San Gabriel Mountains to the south. We could see the haze over the L.A. basin through the occasional pass in the San Gabriel Mountains, and could contrast that with the relative clear (about 75 mile visibility - a somewhat hazy day, I'm told) in the Antelope Valley.
We called in to General Fox Field (KWJF) in Lancaster about 20 miles out. We could see Edwards AFB to our north (15,000 ft. is a LONG runway), and Palmdale (KPMD) to our south. Fox cleared us for a straight in to runway 24, and asked us to call in two miles out over the highway. Since I had been spending a lot of time looking at maps of the area, I knew that that meant Route 14 - the north/south highway between Lancaster and Mojave. Deanie likes to hear communication on the radio - it makes her feel safer, and she kept asking me when I was going to call in again (even though there was no other traffic on frequency or in the pattern). I had to keep telling her that they TOLD me to wait until I was on a 2 mile final, so that was what I was going to do :-).
We landed uneventfully and found a spot to tie down (actually, chain down). We called the Enterprise Car Rental, and they sent someone over to pick us up from town. We loaded an unbelievable amount of crap into the trunk and rear seat of the car (if my camera hadn't been stolen the week before we left, I'd have a lot more pictures of the trip, but ce la vie).
We made it!
I want to thank the following folks for putting Deanie and me (or just me) up for one or multiple evenings, taking care of us, feeding us, lending us their cars, houses, food, and anything else they could think of, including their kids :-). Curt/Judy Smith, Lee/Terri Devlin, Joe Patterson, Don Solomon, Dave/Barbara Greenwood, and everyone who came out to meet us or come to a BBQ or just wish us well. It's folks like these, and the ones mentioned in the BBQ pages, that made the trip possible and enjoyable. Canard folks are ALWAYS like this - It never fails to impress me, and I can't thank all of you enough.
Now, I need to get ready to start work on Tuesday, get my internet connection set up, buy a car, get some groceries, look for a house in Tehachapi, see about keeping my airplane in a hangar, and deal with whatever else comes up..

---
Copyright © 2005, All Rights Reserved, Marc J. Zeitlin