---
2004 Western Trip - Day 6
What I Planned:
Date: On or about July 17, 2004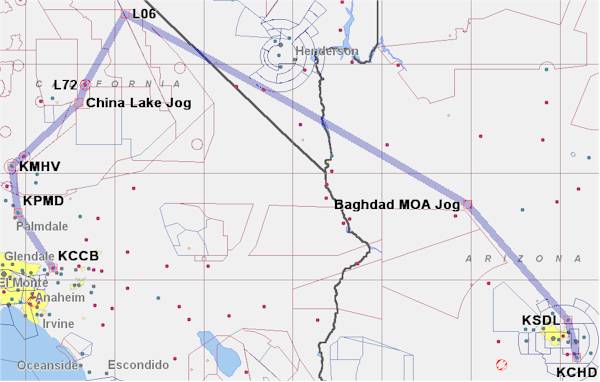 So the plan for this day is to head north out of Chandler (hopefully with Brian Deford in tow), AZ (KCHD), jog around a couple of MOA's a bit, and then head northwest up to Death Valley, CA (L06), just to say I've been there - don't know if I'll land or not. Then I'll head southwest around the China Lake Restricted areas and down to Mojave, CA (KMHV). Maybe I'll try to get a Scaled Composites tour or something :-).
After Mojave, I'll head south, past Palmdale and down to Cable, CA (KCCB) to visit with Paul Stowitts (Flying COZY MKIV). The L.A. area is chock full of canard folks and I'll also see Doug Pitzer in Corona, CA (KAJO). I'll also visit Tom Barclay, who was on the COZY list many years ago but isn't building, and is right near Long Beach, CA (KLGB).

---
What Actually Happened:
Date: July 17, 2004
Evaluation and Begin Rebuilding......
Jim and I woke up Saturday morning and ate some breakfast. We headed out to the airport with cooler heads (well, at least MY head was cooler - Jim's had never gotten hot :-) ). The first goal was to take everything apart and survey the damage. This is what it looked like: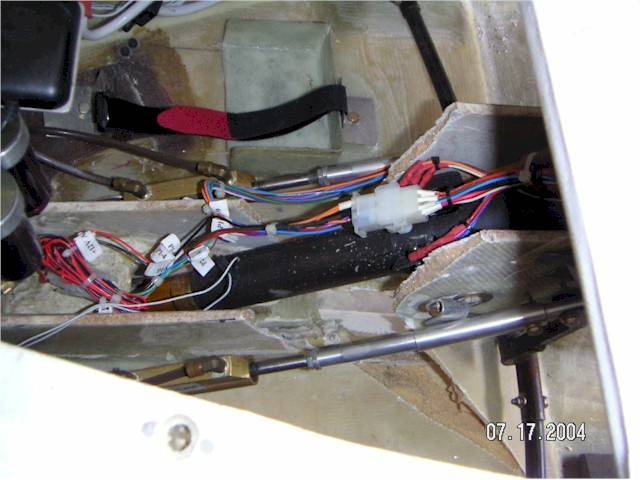 We began by unbolting the Wilhelmson nose-lift and removing it. this allowed us to push the NG-30 assembly back close to it's normal position, which unbent the rudder pedal assembly, and we then removed the rudder pedals and connecting tubes. See this?
We cut what little glass was holding the NG-30 assembly to the rest of the nose and removed it. We then stared at everything for a while, to let it sink in, and to start formulating a repair plan.

It actually didn't look too bad (in comparison to what COULD have been). While the NG-30's had been ripped northward, the noselift assembly had kept everything together, and we began to think that with a few hours of preparation, we might be able to glass the whole NG-30 assembly back in place in ONE layup session. Here's what the assembly looked like out of the aircraft: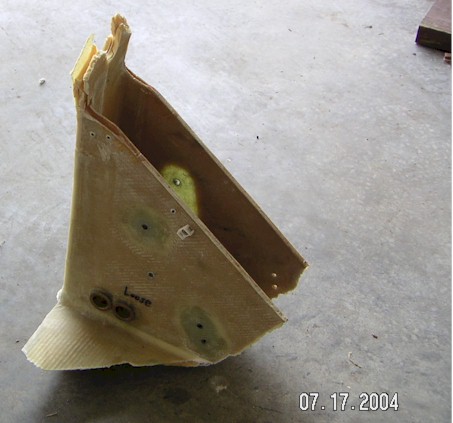 You can see that the mounting points for the nose gear, the connection to F-22, and the rudder pedal bushings are completely intact - the break was VERY clean and well defined, as well as being almost perfectly symmetrical.
Although the rudder pedal assembly looked unbelievably bent when we first saw it, in fact, is was believably bent. After removing all the parts, it turned out that the only real damage was to the connecting tubing, which was, in fact, bent. The rudder weldments themselves had essentially no damage whatsoever. Very good.
The Nose-Lift, however, was not so healthy. Although it could be run up and down, meaning that all the electrical stuff was working fine (motor, gear train, etc.), it looked as though the lead screw was bent about 5-10 degrees, as the end of the jack wobbled something fierce as it moved in and out. Very bad.

Here's what the nose looked like after removing everything: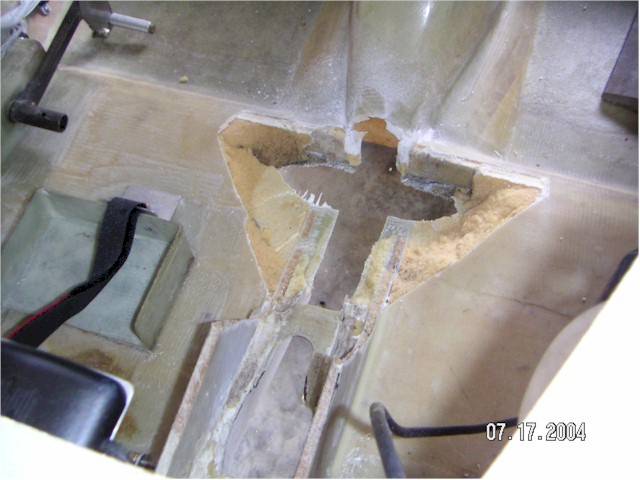 Pretty clean, eh? All the damage was localized - it hadn't spread to anywhere else.
After finishing the disassembly, Jim and I went back to his house and collected everything that we thought we'd need over at the airport.
Steve Wright had called and offered to fly over, and he had some 4130 tubing that he brought to use to fix the rudder pedal assembly. He was there looking at the plane when we got back to the airport. His arrival gave me a chance to look over his "Stagger-EZE", which is a very nice, completely original, 3-place canard based on the Long-EZE. It was very good for me to be distracted, and especially by something so interesting and pretty. Steve did a very nice job, and has a lot of innovative features on the aircraft that I'm sure will be copied in the future.
The three of us then examined the damage and formulated a repair plan (how many plies, where, in what order). I contacted Jack on the phone and he indicated that he thought that he had the parts necessary to repair the unit, and that it could be done within the next day or so if we could get it to him. We attempted to figure out how to get the Nose-Lift to Jack in South Carolina quickly, and the only viable solution was for Jim and I to fly it to Jack in Jim's Velocity. It would be just about a two hour trip. By the time we got back to Jim's house (Steve left to go home) and checked the weather, it was close to 4 PM CDT, and the weather looked really bad - lot's of Thunderstorms and convective activity.
We decided to work on the plane for the evening, try to get as much done as possible in the way of preparation, and then take the Nose-Lift to Jack first thing tomorrow (Sunday) morning. While doing the prep work (and while Jim did some minor repairs to the door locking mechanism on his Velocity), we decided that it would be more efficient for Jim to fly the Nose-Lift to Jack while I stayed behind and completed the glass work. After finishing the sanding, foam cutting and fitting, and trimming, we went back to Jim's house at around 11 PM to go to sleep (and write web pages).
My current evaluation of the situation is that we will probably finish the repair work by the end of the day Monday, and after a test flight, I should be on my way sometime on Tuesday. This is, of course, tentative, and I imagine that I could get charged by a rhinoceros at my next gas stop, which would probably cause me to check myself into the closest mental institution. IF I get going on Tuesday, on what is clearly now a very abbreviated trip, I think I should be able to get to St. Louis, Colorado, New Mexico, and back to Colorado. It seems clear that I will NOT get to California, the west coast, or Canada - there just isn't the time - I have to leave some slop for weather, and for giving rides to folks at OSH (assuming they still WANT them). I fully expect to be able to make the BBQ in Kremmling, CO on next Saturday. I will call folks the day before I get to them, to give them some warning so that they can go hide. I hope that Al Wick will fly down to Colorado for the BBQ, and continue to OSH with us, to meet up with others in Waterloo, IA for Norm Muzzy's gathering.
So, to all of you that have written to express your condolences and offer your assistance in whatever way you can, THANK YOU VERY MUCH. I can't tell you how much I appreciate the support. At this point, I believe that I have everything I need here at Jim's shop - foam, glass, epoxy, tubing, and a remote repair to the Nose-Lift.

---
Copyright © 2004, All Rights Reserved, Marc J. Zeitlin